Gauging the odds that Clinton will win the nomination.
By Christopher Beam, Chadwick Matlin, and Chris Wilson, Slate

To start off,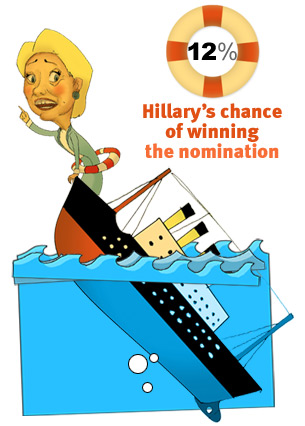 we're putting her odds at a generous 12 percent. (Last week, a Clinton campaign official
gave her
one-in-10 odds.) At the moment, polls indicate that Obama has survived the Jeremiah Wright flap (for now). Clinton's Bosnia blunder has metastasized from a headache into a five-day circus. Bill Richardson finally climbed down from his fence onto Obama's side. And a Michigan court yesterday
deemed
the state's Jan. 15 primary unconstitutional and declined to order a revote, effectively smothering the last glimmer of hope for a
deus ex Michigana
bailout. Meanwhile, a
new poll
puts her favorability rating at 37 percent—its lowest since March 2001.
Continue reading