The Jed Report
Asks: Can you add to a the Clinton-Colombia timeline? He also suggest that we need to look the Clintion's and Mark Penn's relationship with Dubai port deal.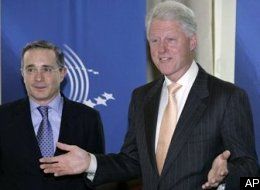 Clinton and Uribe, June 2007
What more is out there? And given the Clintons' deep organizational and personal ties to Colombia, does anybody really believe that mark Penn's 3/31 meeting was entirely apolitical?
Finally, a note to keep this in perspective. As Ben Smith notes, prominent Obama supporters like Tom Daschle are advocates of the Colombian deal, and on balance, Obama -- like Clinton -- seems to be a proponent of more trade, not less -- although he has been steadfast in his support for labor and environmental standards.
The key difference is that Obama himself does not seem to have any personal financial ties to Colombia, certainly none such as the link between Bill Clinton and Alvaro Uribe, and neither do his top campaign aides.