The Democratic presidential candidate and wife Michelle tell PEOPLE how they raise their girls in the public eye
Photo by: Martin Schoeller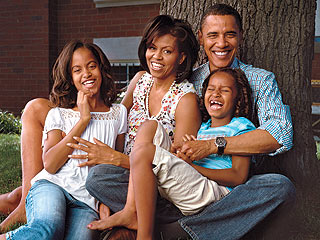 Squeezing some family fun between campaign stops, Sen. Barack Obama kicks a soccer ball to his 10-year-old daughter Malia and, with a wink to a reporter on the sidelines, confides one of his wife Michelle's secret talents: "She is the best Hula-Hooper I know. Once she gets the rhythm going, she can drop to her knees!"
And what about the Democratic presidential nominee? "That is one thing you will never see – me Hula-Hooping. I think that's clear."
Also clear: That even on the campaign trail, this is a brood
almost
like any other, with set routines (chores!), boundaries ($1 allowance!) and playtimes (movie nights!). The Obamas opened up to PEOPLE – first, at the family's three-story home in Chicago in June, and again on July 4, at a park in Butte, Mont., where the family campaigned and celebrated Malia's birthday – about the task of raising two girls, including 7-year-old Sasha, under the public eye.
PEOPLE: Someone told me today that you don't do birthday presents.Michelle:
No, because we spend hundreds of dollars on a birthday party and movie tickets and pizza and popcorn ...
Barack:
That sleepover is enough. We want to teach some limits to them. And their friends bring over presents.
Michelle:
They get so much stuff that it just becomes numbing. Malia believes there is still a Santa Claus even though she's a little wary because some of her friends are non-believers. But Malia says, "Ma, I know there is a Santa because there's no way you'd buy me all that stuff." [Laughing]
So what does a slumber party at the Obama house look like?Barack:
They're pretty noisy.
Michelle:
The older they get, they just talk a lot. But they're at the age where they're pretty self-sufficient. [For Malia's birthday] we're going to go swimming, see
Wall-E,
make pizzas, have sundaes.
Barack:
I usually go for the swim but this time I want to go to the movie just because
Wall-E
has gotten great reviews. I find actually that children's movies are the best movies these days. But I'll probably, after that, peel off until the cake.
Michelle:
[Laughs] "Peel off."
Continue Reading