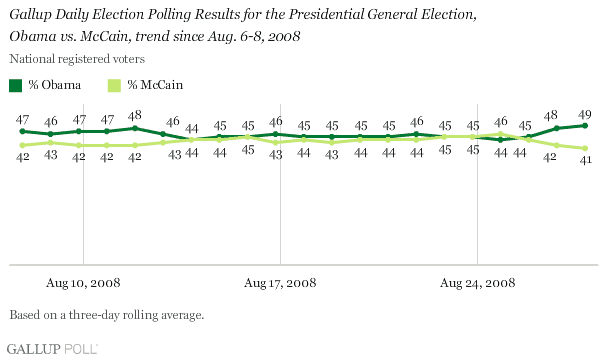 Obama's significant lead over McCain almost certainly reflects the effects of the Democratic National Convention. The two presidential candidates were tied at 45% in the last Gallup Poll Daily tracking results conducted entirely before the convention began. The latest results include interviews from Tuesday through Thursday night, though most of the interviewing was conducted before Obama's acceptance speech late Thursday.
Obama's Speech Lures Some Fence-Sitters as Others Await McCain
Aug. 29 (Bloomberg) --

Barack Obama

's speech last night left Janell Mader, a 32-year-old lifelong Republican, ``a little overwhelmed'' -- and likely to vote for him in November.

`All of the concerns or questions that I had have been answered,'' Mader, a homemaker from York, Pennsylvania, said of
Illinois Senator Obama
, 47, the
Democratic presidential candidate
. ``
John McCain
's going to have to do something pretty incredible next week for me to be convinced that the
Republican Party
deserves another four years.''
Mader was one of a dozen undecided voters from across the U.S. who discussed their impressions both before and immediately after Obama accepted his party's nomination at Invesco Field in Denver on the closing night of the Democratic National Convention.
Some of these persuadable voters had been leaning toward Obama and others were leaning toward the Republican candidate, Arizona Senator McCain, 72. Many said they were impressed by the address. While some of the voters said the first part of Obama's speech was short on specifics, he ultimately allayed their concerns, and most had a positive view of the convention.
At 77, Elizabeth Roszel has never voted for a Democratic presidential candidate, though she is considering backing Obama this year.
`Very Good Case'
The Democrat ``has a very good case and I'm feeling very positive about him,'' said Roszel, who lives in Philpot, Kentucky. ``Now, I have to hear the Republicans,'' who are scheduled to gather next week in St. Paul, Minnesota.
Going into the convention, Obama's task was to convince these undecided voters that he could match his campaign's message of change with substantive proposals for addressing the economy, health care and the war in Iraq.
He made his case, said Kathryn Martin, a 64-year-old registered nurse from Miami Lakes, Florida, who voted for Senator Hillary Clinton, 60, in the Democratic primary.
``I'm sold,'' Martin said. ``I think we're ready for him.''
Others weren't as enthusiastic.
Charles Davilla, a retired aircraft engineer and Democrat from Downey, California, said that while Obama said some of ``the things I wanted to hear,'' he ``didn't say how he was going to accomplish them.''
U.S. Dollar
``What I wanted to hear, for example, was how he was going to strengthen the U.S. dollar,'' Davilla said.
Scott Walker, a 42-year-old Republican heating and air- conditioning contractor from Sharpsburg, Georgia, said he is unhappy with his party, though wary of Obama.
Before the speech, he said he was ``nervous'' that Obama would raise taxes and was unfamiliar with many of his positions.
Afterwards, Walker said he remains undecided.
``It was an excellent speech,'' he said. ``But I really wanted him to nail down what he's going to do about the issues he's running on.''
Berna Burmley, a 56-year-old Democrat from Rush Springs, Oklahoma, said that while she was unable to watch the speech last night, what she saw of the first three days of the convention made her more likely to vote for Obama.
Tax Cuts
``It's leaning me more towards Obama,'' said Burmley, a retired clothing-store owner, citing his proposals for tax cuts for lower-income people, alternative energy and withdrawing from Iraq.
Many Democrats responded to the convention in the same way as Rodney Mattingly, a 56-year-old health-department worker from Lebanon, Kentucky, who is a self-proclaimed diehard Clinton supporter.
Prior to the speeches by the New York senator Aug. 26, and by her husband, former President Bill Clinton, the following night, Mattingly said his support for Obama would be determined by ``how the respect is given to Clinton'' at the convention.
After the speeches, in which both Clintons threw their support behind the nominee, Mattingly decided to vote for Obama.
``It's a combination of what Hillary said and what Bill said, and I think Obama's team has given them a lot of respect during this convention so, yes, I'm going to be in that camp now,'' Mattingly said.
Michelle Obama
The reaction to the speech by Obama's wife, Michelle, on the opening night of the convention was mixed. Michelle Obama, 44, has been portrayed by Republican critics as an unpatriotic radical.
``Michelle Obama came off better than her reputation,'' said independent voter Charlie Hurwitch, a 38-year-old software salesman from Needham, Massachusetts.
Rebecca Darrington, a 48-year-old stay-at-home mom and undecided Republican, said she had a negative impression.
``The thing that concerns me the most of what I heard is from Michelle Obama,'' Darrington said. ``She said she wants to change American traditions.''
In her speech, Michelle Obama spoke about the Chicago steelworkers her husband worked with after law school.
Americans, she said, ``too often settle for the world as it is, even when it doesn't reflect our values and aspirations.''
Chester Hugo, a 38-year-old city worker from Ketchikan, Alaska, voted for Republican Mitt Romney in the primaries. Now he said he is torn between Obama and McCain and isn't happy with either.
`Lesser of Evils'
``It's the lesser of evils,'' he said before Obama's speech.
Republican Bennett Keller, a 48-year-old engineer from San Diego County, California, said he hadn't made up his mind, either.
``If McCain wins it won't be that good and if Obama wins it won't be that bad,'' he said.
Reviews of Obama's running mate, Delaware Senator Joe Biden, 65, were positive, for the most part.
``He's very mature and level-headed and he has been through a lot of knotholes in his life,'' Davilla said of Biden's Aug. 27 speech in which he referred to the 1972 car accident in which his wife and daughter were killed and his two sons badly injured.