Round 1:
Joe Scarborough Vs. Keith Olbermann, Chris Matthews On McCain's Gains In The Polls
Monday night during MSNBC's convention coverage, Joe Scarborough was describing the surge John McCain has been experiencing in the polls over the last few weeks — but Keith Olbermann didn't want to hear it. Scarborough caught him mocking the suggestion, at which point the "Morning Joe" host rattled off a bunch of poll numbers defending his point and making the case that the McCain camp "has dug out of a grave" and "if this convention had been held two weeks ago, it would've been more of a coronation than a convention."
Olbermann and Chris Matthews scoffed at the suggestion that the race is close, with Matthews asking, "Are we done?"
Watch:
Round 2: MSNBC Round 2: Joe Scarborough Vs. David Shuster
Watch five wholly uncomfortable minutes of it here (starts at 1:30):

Round 3: MSNBC Drama Pervades Convention Coverage: Olbermann vs. Matthews, Attempts To Get Guests Banned For Round 3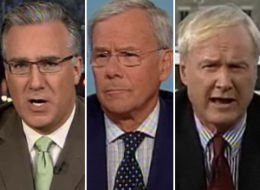 Tom Brokaw said Sunday at a panel in Denver that MSNBC hosts Chris Matthews and Keith Olbermann have "gone too far" in their campaign reporting.At the discussion, sponsored by the Joan Shorenstein Center on Press, Politics, and Public
Policy, Brokaw chided his colleagues:
"I think Keith has gone too far. I think Chris has gone too far," the veteran NBC newsman said at a forum sponsored by Harvard's Shorenstein press center. But Brokaw said that they are "commentators" and "not the only voices" on MSNBC and that viewers could sort it out.
In June, Brokaw slammed the press drumbeat for Hillary Clinton's exit from the Democratic primary, calling it "inappropriate" and "commentary disguised as reporting." Also in June, Brokaw scolded Olbermann on air for suggesting that Clinton was attempting to "shoehorn" her way into the press coverage, saying, "I think that's unfair, Keith."
Round 4: Keith Olbermann Caught Saying About Mike Murphy: "Let's Wrap Him Up"
Watch or scroll for trascript:

CHRIS MATTHEWS: Let me ask you Mike: are we to, to place the credibility of you as a pundit on your belief, that you've just asserted, that the Clintons will vote for John McCain?
MURPHY: Absolutely. I really believe Hillary Clinton will vote for McCain. Look, they're friends. [Crowd boos]. Ah, come on, don't shout me down: let me talk. I mean come on, this is, you guys are so in the tank we ought to be filming this on a submarine. The fact is, Barack Obama, to his credit, has moved closer to Hillary Clinton and John McCain on foreign policy, Hillary and John McCain have worked --
MATTHEWS: That's an argument -- that's not what I'm asking you.
MURPHY: I really believe --
MATTHEWS: Mike, let me get back to --
KEITH OLBERMANN (OFF CAMERA): Let's wrap him up, alright?