Obama Eats Popcorn
The RNC, hoping against hope that Obama will get in some windsurfing on his vacation, is keeping close tabs on the Democrat as he enjoys some time off in Hawaii.
They just sent over this bulletin: "The Honolulu Star Bulletin reports Barack Obama ate popcorn and watched the 3:40 showing of the Dark Knight in theater 9 yesterday."
Seeing a summer action flick and eating popcorn is hardly elitist, but wait, there is more.
Obama has said, the RNC hastens to note, that Batman and Spiderman are his favorite superheroes, citing their "inner turmoil."
Ahh, there it is.
Real, red-blooded Americans, evidently, are only supposed to like superheroes because they have nifty outfits and beat up the bad guys. To look beyond the surface or glean some larger meaning from the characters naturally implies Obama has the sort of egghead end effette approach to life that would leaad us to analyze our enemies instead of defeat them.
Or something like that.
It would be easier if he just went wind-surfing.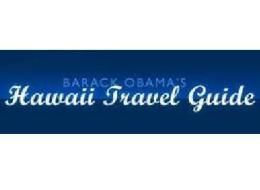 Jason Linkins Has More RNC Stalks Obama In Hawaii
So, I get these emails everyday from the Republican National Committee, keeping me abreast of their Great Works. Naturally, knowing how concerned the RNC is for my health and welfare, I look forward everyday to their email exhorting the capture of Osama bin Laden or a plan to solve the housing crisis. Someday, soon, I'm sure I'll get one! But for today, I'll have to make due with their periodic dispatches, reporting on the quotidian rituals of Barack Obama's vacation and all the un-American activities in which he's been participating.
Today's highlights include:
Kua 'Aina Sandwich Shop (1200 Ala Moana Blvd # 665, Honolulu, Hawaii): The Honolulu Advertiser reports "Obama ordered six half-pound cheeseburgers, eight third-pound cheeseburgers, 10 kids' burgers and 20 orders of fries" for a total of "just over $116" at Kua 'Aina yesterday.
Indeed! How dare Obama dine upon these elite foodstuffs! And what is this adding of "cheese" to "burger" that the RNC speaks of? Sounds like something they invented at the Harvard Law Review.
Magic Island (1201 Ala Moana Blvd, Honolulu, Hawaii): The Honolulu Star-Bulletin reports Obama enjoyed a picnic at Magic Island "under a banyan tree with about a dozen relatives and friends" yesterday.
What Strange and Terrible Muslim necromancy did Obama perform on his Magic Island with his sorcerer family on their picnic under the banyan tree?
Punahou School (1601 Punahou St, Honolulu, Hawaii): KGMB-TV reports "Obama spent about two hours on campus playing basketball with some of his old teammates" yesterday.
"Basket Balling," a game invented by the Reverend Jeremiah Wright, is a popular pastime of Uppity Negroes, the purpose of which is to score "Slam Dunks," thus mocking Medal of Honor winner George Tenet.
Higgins' Beach Estate (Kailua beach, Hawaii): Politico reports Barack Obama is renting an 11-bedroom, oceanfront vacation home owned by Jill Tate Higgins. "Higgins' house on Kailua beach, an hour's drive from Honolulu on the northern edge of Oahu, sits behind thick palm trees at the end of a private road. ... Property records offer the only glimpse: The $8 million house occupies 12,000-square feet and has 10.5 bathrooms, a pool and a Jacuzzi."
Yes. Obama resides as a guest at expensive homes with indoor plumbing, whereas rugged individualist John McCain lives off the land (and in ten mansions on various parts of the land, purchased through the sales of Cindy McCain's centerfolds in American Iron magazine).
I suppose, for BALANCE, you might want to know where John McCain will be spending his time? Well, this weekend, McCain will be found in the company of noted paupers Stephen Wynn and Sheldon Adelson, in the town of Aspen. Aspen, of course, is Colorado's version of Allentown, whose residents work long hours manufacturing snow in factories hit hard by NAFTA. Residents of Aspen lead a hardscrabble existence, which got 300% more hardscrabulous yesterday, when John McCain made them all citizens of the nation of Georgia.
RELATED: Guess Who's Coming to Dinner? McCain and Top Funder Of "Independent" Groups Meet Friday In Aspen [Accountable America]