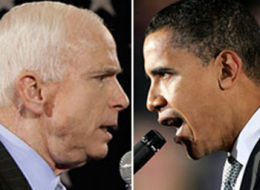 Jason Linkins, HuffPost
After a week given over to anticipation of the end of Sarah Palin's press freeze and breaking-news coverage of a colloquial phrase that Americans have used for generations, the Obama campaign will seek to set the agenda early in the week, with the candidate going on tomorrow's Good Morning America to talk economic issues with ABC's Andrew Cuomo.
OBAMA: "You would be hard-pressed to explain to me what John McCain's economic vision is about how he's gonna get this economy back on track. That, I believe, is somebody who is out of touch with what is -- should be the central question of this election."
Obama also commented on the McCain camp's continued obsession with the town hall meetings of yesteryear, calling the town hall idea, "a little bit of a gimmick":
OBAMA: "The reason that we're not talking about the issues doesn't have to do with the fact that we didn't have town halls. The reason that we're not talking about the issues is because John McCain has shown a lack of interest in talking about the issues. That's how their campaign's been run."