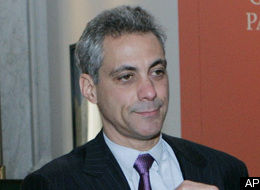 Sam Stein, Huffington Post

One of the most influential (and thus far subdued) voices in the Democratic primary all but declared the contest over on Friday morning.
"At this point, Barack is the presumptive nominee," said Rep. Rahm Emanuel during the New Yorker's magazine conference. "Hillary can't win but something could happen that could effect that Barack could lose the nomination."
Emanuel wouldn't go so far as to say that Clinton should drop out. "Next question!" he declared when asked. But his voice does carry political sway. The congressman has been staunchly non-committal throughout the primary process. And his ties to the Clinton administration and connections to fellow Chicago pol Obama make him one of the key figures who could help facilitate an end to the nomination battle.
Clearly, party unity was on Emanuel's mind.
"What Hillary does in the next month is important," he said. "If she spends her time contrasting with Senator McCain, drawing distinctions that help the Democratic Party, that's productive. If it's done in another way, that's not productive."